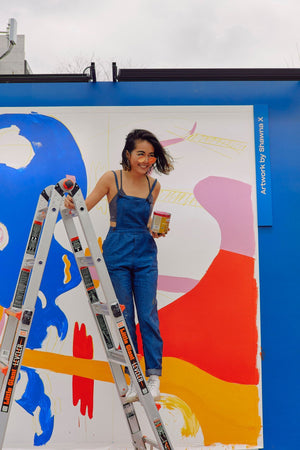 In Conversation with: Shawna X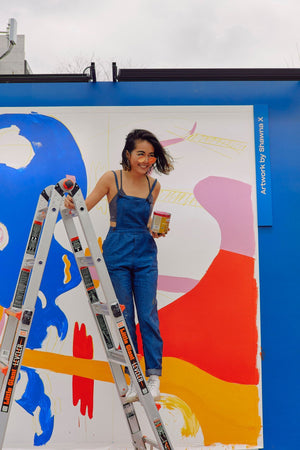 The artist Shawna X creates worlds that are graphic, immediate, psychedelic. Her pieces move and seem committed to the ways in which visual commentary (illustrations in magazines, murals on walls) can push us to reconsider how we live and who we are. Shawna X delivers a sense of navigation with each or her works, as though beyond the work itself is something subterranean and pounding. Identity, technology, the body, are all recurring themes, but more so, is a deep understanding that as humans, we're never far from our next emotional encounter.

This past summer was marked by collective sadness, anger, reflection, new urgencies and mobilizing—I've personally found it hard to write or do much of anything. How have you been? Did you learn something new about yourself? A new strength, a new vulnerability?

1000000%. I think the collective introversion induced by COVID, the political atmosphere, BLM movement lifting the veil on white supremacy, capitalism amongst everything else, have taught me to learn and understand more about my role in this society. Not just what I do to make money – but as a mother and a human. Not only this but I finally started therapy. I've been creating less and listening more, and it's been quite rewarding.

What or who have been some recent sources of unlikely or unexpected inspiration? Anything that's cracked your world open?

I've been inspired by reading 'alternative' perspectives on society.

Currently I'm reading Against Creativity by Oli Mould, recommended by a friend who's heard enough of my laments on being 'creative' in our working world. The book is a perfect insight into what ails me in the fusing of my passion into money-generating work, while attempting to stay invigorated under the pressure of everything else. It sheds light on how creativity, in so many ways, is glamorized labor, and really pays off and is received only if it feeds the cog. It is dismissed if it challenges it. GREAT READ, and much needed clarity.

Who makes you laugh?

Honestly, the internet is a hilarious place (before it gets really dark and twisted). Twitter, tiktok = gems.

Do you keep a journal?

Yes, It's been one of my main modes of therapy for so long; I love reading back, reflecting and seeing how much I've changed or stayed the same. It's not a leather-bound journal or sketchbook, it's a word doc I started the week before I moved to NYC in 2014, which makes it accessible from anywhere via dropbox.
Who are other artists whose work moves you?

I'm a huge fan of Tiger Tateishi. His work in the 70s and 80s is conscious-bending, and so beautifully inspiring. He created comic-form oil paintings that depict his inner mind workings and the way he sees the universe, time and everything in between, though he never received much acclaim during his life.

I'm also inspired by Judy Chicago's Birth Project. I've been reading her book throughout my first year of motherhood. While she has never had a child, she fully engaged with mother's experiences, then organized and mobilized housewives to embroider – a craft disrespected by the art world because it's a 'women's craft'. Reading through her ups and downs on this five year project, as she created this insanely beautiful body of work, is so eye opening. To see what's required for input into a project, rather than just seeing the outcome as we are so used to these days.

I was reading your interview in The Creative Independent, and right at the bottom you recommend, "Making life inside your body and becoming a human submarine." I love that. Can you elaborate?

The mother is a protector of the child in gestation and out, but while the child is in our womb, we are a machine. Everything we eat, feel, say is passed to our unborn child. It's quite beautiful to think of our flesh body as something that can operate as a protective, nourishing shield - a machine.


Do you have any advice for young artists who are trying to find their voice?
It takes time. Be patient. Knowing yourself and thus, your voice, is a journey, not a goal.

Whenever I'm feeling a little wayward with my work, I think about something a close friend of mine and I say to each other—we remind each other to protect our flame. How do you protect your flame?

It's a daily practice. It really starts with understanding yourself and knowing what nurtures you, then pinpointing which part of you invokes which thoughts and actions and emotions. Awareness is the key in knowing how to protect your flame.