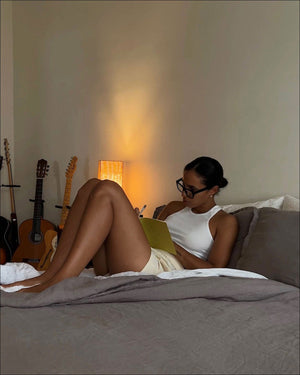 Take Note with Jessica Manning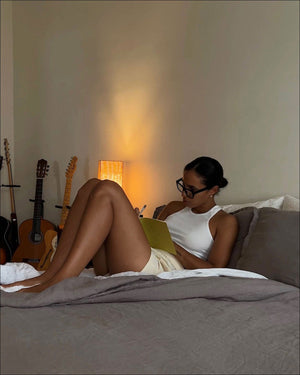 To celebrate the launch of our new journal, For Now, we're spotlighting creatives who take note of—and celebrate—the ordinary things in life. In our first installment, we hear from Jessica Manning, a digital storyteller based in Los Angeles, California.
Lifestyle vignettes and picturesque landscapes are just a couple of scenes you'll find on Jessica Manning's Instagram feed. The LA-based creator's chic aesthetic is present in everything she shares—but this thoughtfulness extends beyond visual content. Manning's penchant for storytelling remains a through-line in all her endeavors. Accordingly, she takes note of the details. As Manning mentioned in our interview: "Little moments bring me a lot of joy, and recognizing them is something I'm constantly doing in my daily life."

Below, Manning shares more about her artistic background, journaling habits, and advice for those looking to put pen to paper.
***
As a digital creator and creative professional, language plays a big role in your work. Can you share a bit about where your love of storytelling began and how it's evolved?
I think language and storytelling have always played a role in my life and work. Before working as a content creator and sharing how different services and products incorporate naturally into my life, I was a singer-songwriter. And before pursuing music, I worked as a nanny, among other things. Language has played a part in it all. Whether I'm connecting with my community on social media and finding more ways to bridge the gap between our worlds, writing a song about moments of my life I need to process and move through, or helping a child navigate their emotions and utilizing language to help them feel more seen and safe, language is always at the core.
The For Now journal invites us to pause and notice the little things in life. What's something you've taken note of in your life or creative practice? How did this observation make you feel?
I love the concept of this journal because I truly love to notice and enjoy the small things. Little moments bring me a lot of joy, and recognizing them is something I'm constantly doing in my daily life. One thing I've noticed a lot while journaling is that I really enjoy the quiet. I love a tidy and quiet space to be alone with my thoughts. It helps me to visualize and process things more clearly.

How does writing bring you calm or clarity? What do you hope to build upon in your journaling habit?
Truthfully, I have never been able to settle into a strong journaling habit. I have always wanted to be the person that journals daily, but every time I begin, I feel pressure to have the perfect thing to say or to make some grand statement. This journal has really been helpful for me to form a ritual around it without so much pressure. I love the simplicity of the prompts because it feels like a reflection of how I typically view life day to day.
What journaling prompt would you give to the Ordinary Habit community?
What's one small thing you can do to better show up for yourself?
Footnotes
Write or draw? Write.
Do you journal in the morning or at night? Morning.
What's your ideal journaling environment? Bed, couch, or desk.
What's your go-to journaling tip for those just starting? Try your best not to take it too seriously. There are no rules. If you feel overwhelmed, start with writing what you physically see around you. The rest will flow.