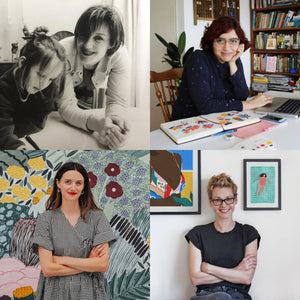 The Extraordinary Women of Ordinary Habit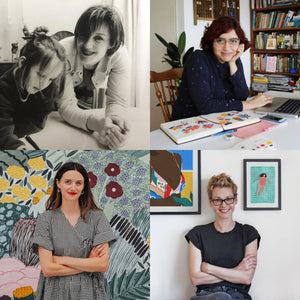 Join us for a team lunch break, and this is what you'll see: A splatter of puzzle pieces on the wooden table. Half-finished cups of coffee sitting atop open paperbacks. Closed laptops and boxes stacked on the adjacent chair. Fingers lightly brushing against one another while reaching across the crowded surface. The quiet anticipation on our faces. The jubilant shrieks and high-fives after finally completing that 500-piece puzzle.
Scenes like this remind us how integral collaboration is to everything we do at Ordinary Habit. With the arrival of Women's History Month, we can't help but think about the individuals who've brought our vision for everyday play to life, namely our artist partners. "It's been one of the most rewarding parts of starting this business," Echo reflected. "Getting to know the people behind the artwork and learning more about their processes has been amazing."
In honor of International Women's Day, we're celebrating a handful of extraordinary women who've left an indelible mark on our brand—and sharing more about the women who inspire their creative practice. Read on for anecdotes, memories, and musings from our global artist community.
***


Bodil Jane
"My mom! My mom and dad both went to art school (me and my sister, too)! My dad and sister are very considerate when drawing or creating something. They take ages to find the right material or paper and put a lot of time into the details and every decision. They are real artists.

My mom and I are a lot more practical. She taught me to be decisive—not think too much and just do. I love that about her! Both of us draw and paint quite fast. We just go with the flow and choose colors intuitively. I never plan the entire illustration beforehand. I just trust my instincts and try not to think too much. She's taught me to be confident when creating—if something fails, no worries; just move on to what's next. When we were kids, she even gave us a little 'assignment,' which was to create very ugly things very fast—she even called it 'create art for the bin.' I still do that sometimes. I love how she doesn't take everything too seriously." — Bodil Jane
Shop our "Indian Garden" Puzzle by Bodil Jane - Follow Bodil



Marleigh Culver
"I first fell in love with Julie Mehretu's work at my magnet arts high school about fifteen years ago. I was fascinated by her. She's a queer artist who creates these gargantuan paintings full of her visual language of mark-making and shapes and geometry. I was driving to a dinner in New York one time and passed by the Goldman Sachs building that has one of her installations in the lobby. It was breathtaking.
The first time I saw one of her works in person was early college years at the VMFA in my hometown. It brought tears to my eyes, and I felt that feeling in your chest when your heart is suspended in a soft shock. It feels like she freezes time and simultaneously moves us at light speed through it. My work may not be in the same style as hers, but there is something about the layering, the colors, the shapes, almost like my work is the most distilled down focus of these pieces, that draws me to her work. It's the energy that inspires me." — Marleigh Culver
Shop our "Migula" Puzzle by Marleigh Culver - Follow Marleigh
Carla Llanos
"The most inspiring woman in my life is my late grandmother Blanca, who we sadly lost a year ago to Covid. She taught me the beauty of simplicity and gratitude, concepts I haven't fully integrated into my life but those I strive for. Inevitably, they also have an impact on my art practice. My artwork "Hanging Out" is about appreciating simple moments with a friend—so yes, I'm absolutely inspired by her, even though I didn't know it at the time." — Carla Llanos
Shop our "Hanging Out" Puzzle by Carla Llanos - Follow Carla
Sara Boccaccini Meadows
"I like to direct my artwork in a meaningful way and feel dedicated to supporting projects that make a difference. Women like Jane Goodall—who devoted her life studying chimpanzees and is an outspoken environmental advocate—are some of my biggest inspirations. Seeing how she connects to nature really inspired my puzzle design for Ordinary Habit. I hope this design can inspire other women to enjoy, connect, and protect our natural world." — Sara Boccaccini Meadows
Shop our "Jungle Hike" Puzzle by Sara Boccaccini Meadows - Follow Sara


Asahi Nagata
"I have many female illustrators and designers that I look up to and get inspired by. But looking further back to see who really encouraged me to pursue my interest in drawing and making art was my Baachan (grandmother.) My Baachan had saved all the flyers that were blank on the backside and cardstock scraps that came in random packages. She always had ballpoint pens, brush pens, pencils, and one hundred color markers in her house in Takikawa, Japan for whenever I visited.
I was an introverted child who liked to draw quietly, and my grandma always encouraged me by providing all the material and the space where I could be the most creative and be drawing all day long. If I could tell her that drawing has become my job and is still my number one hobby, she'd be proud of me. I tend to feel comfortable using a copy sheet or a paper scrap to do my sketches rather than in a sketchbook even today—it's probably the habit that grandma gave me in those days." — Asahi Nagata
Shop our "Himawari" Puzzle by Asahi Nagata - Follow Asahi
Josefina Schargorodsky
"A woman that inspires my artistic practice, and this illustration is my friend Mimi. She runs her own underwear company focused on feeling good in your body. She is a force, the most caring mother, and always has the right word to make you feel better. I see her strength, creativity, and sweetness represented in this artwork." — Josefina Schargorodsky
Shop our "Snakes in the Garden" Puzzle by Josefina Schargorodsky - Follow Josefina
Maggie Stephenson
"My grandmother and my great-grandmother are two women that I've looked up to throughout my entire life. They raised me in a small village in Southern Poland. We didn't have much financially, but we were rich on a soul level. I was always encouraged to spend time in nature and connect with Mother Earth. My art is built on this foundation, and I am grateful for these two strong women for instilling that in me." — Maggie Stephenson
Shop our "How I Will Spend the Summer" Puzzle by Maggie Stephenson - Follow Maggie
Maja Tomljanovic
"As I'm inspired by everyday life, most of my artistic inspirations come from countless women that inspire me daily, from my friends to people in the public eye, I can always find something inspirational. My first inspiration comes from my mom, who created a home where I was loved. She taught me always to do my best, be strong in times of struggle, and treat others the way I want to be treated.
At a young age, I was inspired by Croatian painter Slava Raskaj. Besides being a female artist at the beginning of the 20th century, she also struggled with deafness which had a decisive influence on her psychological state later in life. While I don't think one particular woman impacted how I created artwork for Ordinary Habit, I think all of these women have shaped and inspired me to create this piece." — Maja Tomljanovic
Shop our "Chillin" Puzzle by Maja Tomljanovic - Follow Maja
Amber Vittoria
"My mother and my late grandmother inspire my work—through encouragement, love, kindness, and sharing their stories with me. A bit of each of them is in every piece I make, especially my Ordinary Habit puzzle." — Amber Vittoria
Shop our "Wish You Were Here" Puzzle by Amber Vittoria - Follow Amber
Priscilla Weidlein
"I've recently become enamored with ceramicist Ginny Sims. She creates functional and sculptural objects, including the most lively, poetic mugs one could ever hope to drink their tea from. Her work inspires me to break rules, to be a little less precious with my lines. She reminds me that negative space tells a story, too." — Priscilla Weidlein
Shop our "Esctatic Motion" and "Soft Rhapsody" Puzzles by Priscilla Weidlein - Follow Priscilla