Quotidian Pillow
ORDINARY HABIT
A limited edition collaboration with Studio Proba, this hand-tufted pillow features the same artwork that is seen on our puzzle. Bringing brightness and joy into your home, you can't help but smile each time you see it.
Plays well with our Quotidian 500 Piece Puzzle. 
Pillows are final sale and cannot be returned.

– Designed in Brooklyn, handmade in India
– 18 in x 18 in
– Hand-tufted, hand-dyed New Zealand wool + all natural cotton
– Does not come with pillow insert, only pillow cover
– Can vary slightly in color and size due to being hand-made
– Pillow Cover Only (does not include pillow insert)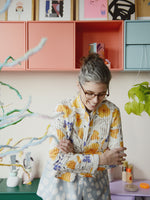 Alex Proba

Founded in 2013 by Alex Proba, Studio Proba is a Portland and New York-based multidisciplinary design studio focusing on brand design, art direction, product design, illustration and murals. Alex Proba's creativity evokes emotion as a celebration of color, pattern, and positive stimulation of the senses. The designer draws from the everyday for her designs and artwork: visuals, sounds, smells and memories. Born in Germany into a family of doctors, Proba went on to study Spatial Design (architecture and graphic design) at Akademie Mode und Design Hamburg, Germany, and Contextual Design (furniture & product) at the Design Academy Eindhoven, Netherlands.

FOLLOW ALEX
About "Quotidian"

"My work is expressive, colorful, sometimes bold and geometric, sometimes organic and playful. I want people to feel something when they interact with my work—and I want them to feel something overwhelmingly positive. I try to be inspired by the everyday, the things surrounding us that we often take for granted. I am fascinated with how many people go through a day without noticing the patterns and structures in nature, and the juxtaposition against so much that is "man made." I try to marry both in my works. Patterns are often inspired by familiar textures (concrete, terrazzo flooring, pebbles) and materials, and my shapes can often be found in nature. This specific piece is meant to remind people not to take little, everyday things for granted." — Alex Proba