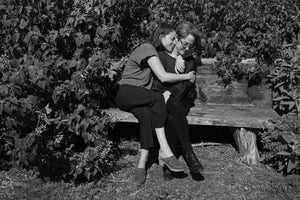 At Home with Fanny Singer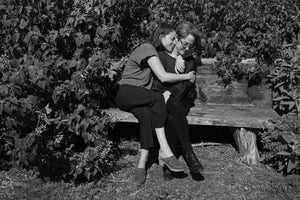 I met Fanny Singer years ago while working in the kitchen at Violet Cakes in London. Around the same time that Ordinary Habit was launched – a mother/daughter duo founded company – Fanny's book Always Home was released. Chronicling her world of food, wine and travel, it's also an intimate portrait of her mother Alice Waters. I was immediately struck by the beautiful nature of their relationship, one that very much reminded me of my own relationship with my mom. – Echo

My mom calls these 'Garden Salad Tacos,' and they're our go-to quick lunch (or dinner in a pinch). Don't tell anyone, but sometimes we just eat them standing up at butcher block—since they're irresistible and should be eaten hot when the cheese is melty! – Fanny Singer

Garden Salad Tacos

Note: These can be scaled to accommodate what's in your fridge, and how many people you're with. Consider the ingredients list as a suggestion, and adjust as you wish.
GATHER
Salad leaves
Radishes
Cilantro
Corn Tortillas
Red wine vinegar
Lemon
Olive Oil
Salt
Cheese
Green onions, optional
Hot chili, optional

CREATE
Take a couple of handfuls of washed salad leaves, coarsely chop them, and put them in a mixing bowl. Use a knife to sliver a few radishes and add them to the leaves. Add a handful of cilantro leaves if you have them.
Heat two corn tortillas over the open flame of a gas stove top until lightly blackened (you can skip this step if your stove is electric).
Dress the salad with a splash of red wine vinegar, a squeeze of lemon, a splash of olive oil, and a pinch of salt—the dressing should be bright.
Place the tortillas on a small baking tray and, using a box grater, blanket the tortillas with grated cheese.
Put the tray into a toaster oven, or under the broiler in the oven, to melt the cheese. When the cheese is bubbling, remove the tortillas from the oven, fill with the dressed salad, and serve immediately.
There are many variations: sometimes I sprinkle a bit of diced hot chili (like jalapeño or serrano) and some slivered green onion over the cheese before putting the tortillas in the oven; sometimes I add avocado or cucumber or tomato to the salad.