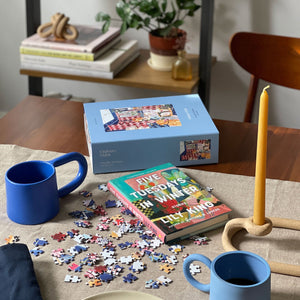 Human Habits and Possibilities: Reflections on Five Tuesdays in Winter by Lily King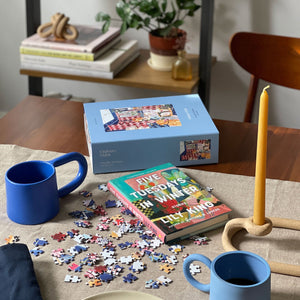 By Rachel Schwartzmann
Ordinary Story is a monthly series by Rachel Schwartzmann that features musings and conversations on one of our favorite ordinary habits: reading. In the tenth installment of this series, Rachel reflects on Five Tuesdays in Winter by Lily King.
As the end of the year approaches, I find myself grasping at beginnings. I want books that open me up to possibility (even if those possibilities are dashed within the first few pages). Books rich in dialogue and plot—stories about love, but not exactly love stories. Of course, there are the stories we tell ourselves about love, and then there are the ones that Lily King writes.

I first came across King's work via her novel Writers & Lovers at the beginning of the COVID-19 pandemic. (It was that time when possibility felt in particularly short supply.) Despite it being a work of fiction, I sensed (King's) heart on every page. I saw (my) life. And when I began reading her newly-published collection, Five Tuesdays in Winter, I felt human.
***
In Five Tuesdays in Winter, King examines the frailties of human nature. While the characters in these ten compelling stories range in age and sensibility, love anchors their actions—and King writes about this smartly (and without being overly sentimental). Readers witness mothers and children reconcile their grief, unrequited romances between friends, devastating abuses of power, rage and redemption. Humanity is in every sentence, and some characters' fates are a bitter pill to swallow.

However, the ordinary moments building towards each character's endpoint is where King's storytelling prowess truly emerges. Take this beautiful passage from "When in Dordogne" for instance:
"It is strange to think that they both still walk this earth somewhere, that they have also had several decades more of life, that right now they are each lying down or standing up or reading a book or on an airplane or in a hospital room or a taxi or sitting in an office."
***
Seasonality has less to do with this collection (save for the title story). However, as we turn the corner towards a new year, reading Five Tuesdays in Winter at this point in time has ignited necessary reflection. It's also reinforced the importance of honoring what isn't so easily recalled: The meditative quality of cuddling a pet. The shower epiphanies. The aimless walks around the neighborhood. The fits of laughter shared under masks. The ordinary moments that hide in plain sight—that quietly enrich our lives.

And yet, what can we genuinely call "ordinary" now? How do we put words to this idea as the ground shifts beneath our feet? King's characters understand—and often grapple with—the fragility of words as they recount their experiences. In "North Sea," King describes the plight of her grieving protagonist, and at one point, writes,
"Did he know? Of course he didn't. But for so long now when someone asked how she was they loaded it with pity and braced themselves for her reply, as if she had the power to hurt them with the truth."
And later, in "Timeline", King's narrator remarks that they
"thought about words and how, if you put a few of them in the right order, a three-minute story about a girl and her dog can get people to forget all the ways you've disappointed them."
Reading about ordinary lives is one thing, but away from these pages, I've struggled to find constancy in talking or writing about life at the current moment. Instead, I've started to understand that it's less about giving "ordinary" a definition or set of terms to exist within. I've learned to quietly create space for habits to grow as much as I do. To accept ordinary in all its forms, its fluidity—like a season, coming and going.
***
As I sit down to finish this essay, it's the first frigid day in December. The holidays are around the corner, and the world is grappling with a new variant surge. Devastating circumstances aside, winter remains as polarizing as ever: It marks both a beginning and an ending.

On the page, King's characters show that how we write our next chapters is entirely up to us. Though, if I'm being honest, I'm not sure what ordinary habits I'll build in the coming months. But I do know that reading will always remain top of mind. And while all of the stories I encounter won't always inspire possibility, they'll remind me of my humanity—and to take a deep breath. To turn the page. I think that's a good place to start as we close the book on another year.