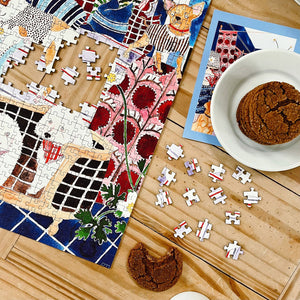 A Holiday Cookie Recipe from Echo + Tre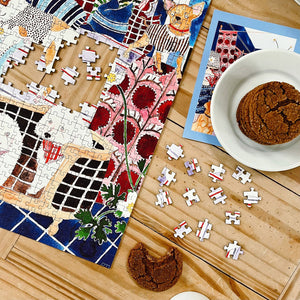 Amidst the holiday season, we wanted to send greetings from our family to yours. We're so thankful to you all for your support, and all of your kind words of encouragement. Our first year of Ordinary Habit has been a wonderful journey, and has given us the opportunity to connect with so many of you – at a time when human connection is precious. Whether you find yourself with loved ones this holiday season, or finding peace and quiet alone, we hope our puzzles and games have kept you company and brought you calm and provided joyous times with others.
Baking is big in our household, and this time of year the cookie making never seems to stop.
We wanted to share one of our favorite recipes with you – one that Echo's been making since she was a teenager. We hope you find these as delicious as we do!
Chewy Gingersnaps
Makes 24 Cookies
GATHER
1½ slightly heaping cups unbleached all-purpose flour
1 teaspoons ground ginger
1 teaspoon ground cinnamon
1 teaspoon ground cardamom
¼ teaspoon ground cloves
¼ teaspoon freshly grated nutmeg
1 stick (½ cup) unsalted butter, room temperature
1 tablespoon grated peeled fresh ginger
½ cup dark-brown sugar, packed
¼ cup unsulfured molasses
1 teaspoon baking soda
1½ teaspoons boiling water

¼ cup granulated sugar (for rolling)
CREATE
Line two baking sheets with parchment or Silpat mats. In a medium bowl, whisk together flour, ground ginger, cinnamon, cardamom, cloves, and nutmeg.
Beat butter and grated ginger until lightened – in a stand mixer, with a hand mixer, or with sheer hand beaten vigor, for about 4 minutes. Add brown sugar and mix well. Add molasses, and beat until combined.
In a small heatproof bowl, dissolve baking soda in boiling water. Beat half of the flour mixture into the butter mixture. Mix in baking-soda mixture, then the remaining half of flour mixture. Turn out onto a piece of plastic wrap. Pat dough out to about 1 inch thick and refrigerate until firm, (2 hours or overnight).
Heat oven to 325 degrees. Roll dough into 1 ½-inch balls, and space 2 inches apart on prepared baking sheets. Roll in granulated sugar. Refrigerate again if you can (20 minutes).
Bake until the surfaces crack slightly, 10 to 12 minutes, and rotate halfway through. Let cool on the sheets, then transfer cookies to a wire rack. Cookies are best the day they are made but can be stored in an airtight container at room temperature up to 5 days.