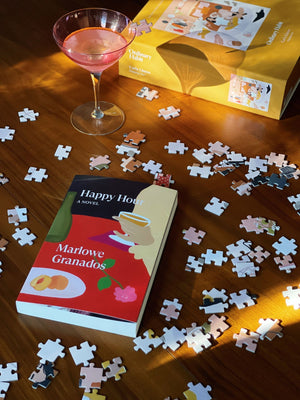 (Life)Style Habits: Reflections on Happy Hour by Marlowe Granados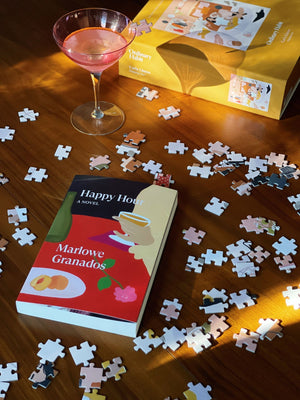 By Rachel Schwartzmann
Ordinary Story is a monthly series by Rachel Schwartzmann that features musings and conversations on one of our favorite ordinary habits: reading. In the ninth installment of this series, Rachel reflects on Happy Hour by Marlowe Granados.

Before I stayed in, I dressed up.

When I was younger, my sartorial inclinations weren't motivated by much else other than the desire to check a box. It seemed to me that style was less of a habit and more of an expectation. Clothing was a way to tell a story I felt too shy to say out loud. And for a while, the story went like this: As a twenty-something in New York City, there was always more to wear. More to see (and more opportunities to be seen).

These days, my reading habit has shifted how I understand aesthetics (both on and off the page). Recently, I picked up Marlowe Granados' debut novel Happy Hour, and I was reaffirmed of the nuanced role style can play in someone's life—and how it can quietly transform their story.
***
In Happy Hour, we meet twenty-one-year-old Isa Epley and her best friend Gala as they arrive in New York City for the summer. The novel begins in late May of 2013, and readers immediately feel the casual tone of the book evidenced by the girls' actions (or, in some cases, inaction). On the surface, Isa and Gala's primary pursuit is aspiration rather than ambition—their work is motivated by (life) experiences. "Everyone kept asking us what we were doing in New York, what we were working on, and what our general story was," Granados writes. "When Gala told them we were doing 'absolutely nothing,' she was met with raised eyebrows. They would add, 'Do you have internships at magazines?'" (Day-to-day, the duo barely makes ends meet through a series of odd jobs, from running a clothing stall to modeling gigs and more.)

Ever the girls about town, Isa and Gala are a delight on the page. Yet even when Granados renders vibrant vignettes of gallery-going, bar hopping escapades, these moments quietly build towards something beyond aesthetic pleasures. With Isa's sharp, diaristic narration, readers observe how certain relationship dynamics provoke larger reflections on class, privilege, performance, race, and friendship. All in all, Granados smartly captures the glamour and grit—and, in Isa's case, grief (I won't spoil anything more here)—that can fuel young adulthood.

I've always been a wallflower at social gatherings, but while reading Happy Hour, it was easy to imagine a younger version of myself on the periphery of Isa's nightly exploits. The fiction: quietly approaching her, asking about hopes, plans, dreams. The fact: remaining where I am in the room and admiring Isa's style from afar: a minute detail that adds texture to her story—and brings up a few things about my own.
***
Early in the novel, Isa comments on Gala's talent for "understanding the fine line between an outfit and a costume." She says, "An outfit is what you wear, but a costume is something to really believe in."

While I didn't necessarily view my style as "a costume" at that age, I was more conscious of societal cues or influences that would shape the overall "look" I was crafting. After starting a Tumblr called The Style Line at age eighteen—and subsequently relaunching it into a boutique content company at twenty in 2013—I assumed a more "official" interest in style and fashion. (For background: The Style Line's editorial mission was to show how style contributed to the world's bigger conversations.)

Offline, I was still trying to figure out how to cultivate the personal in my personal style. Hustle culture (coupled with the onslaught of style blogs) was in vogue—and eventually, it was hanging in our closets: picture-perfect power suits, statement accessories (read: branded merch). Not yet wise to the trappings of this trend, I believed these aesthetics would provide context about who I was and why I was in the room. As long as I had access to these sartorial tools, I could dress up and show up fully. I could control (or style) the narrative about my worth.
***
Throughout the novel, Granados writes about style with precision. At one point, Isa wears "a short-sleeved barong, a cream sheer shirt made from pineapple silk with lace appliqués in the shapes of vines and flowers down the front," and in another instance, "a pair of Jordache cut-offs that loosely hung around her waist and yet still made her lower back too warm."

Honing one's style requires building a habit of self-awareness. Isa—whose life and style choices eschew NYC convention—knows how to work the room. ("I wore a bright red dress that bared the ridges of my spine," she tells the reader. "It hung off my shoulders by thin straps. I knew how persuasive I could be in red.") To a certain extent, style is also a necessity. At more precarious points in the novel, Isa has nothing but the clothes on her back—and the youthful adrenaline to make it through another day. ("I decided on a yellow linen Escada dress with gold buttons all the way to the top. I could only afford to eat canned soup for a week after purchasing it from a consignment store. I put on gold-knot earrings and carried a small emerald-green handbag. Gala walked me to the door and said, 'I hope the outfit doesn't go wasted on him because it's really too good.'")

In this way, Happy Hour poses timely questions about style and agency: What can a life(style) look like without the grind? The expectations? The habits of performance? "I make choices. I take action. That's simply how I navigate," Isa remarks later in the novel. "But isn't who I am who goes out into the world? Do those few lonely moments when I return inward, away from noise and glamour, really count?"
***
Over the last few years, I've made a conscious decision to slow down (and pare down) every facet of my life. On the one hand, this meant closing The Style Line's website and creating more space to focus on building a life versus a lifestyle. But in an age predicated on output, it was challenging to grapple with outgrowing a brand—one quite literally of my own making—that had become so closely attached to my identity. Isa might have said it best: "I don't exist for other people's curiosity, but sometimes it does feel that way. One can be seen and then unseen just as quickly."

For so long, style was a means to an end—a mode to get my (then) high-heeled foot in the door. (It's a miracle, I wear shoes at all now.) Although it's a work of fiction, I wish Happy Hour had been available to me in my early twenties (as readily as the "boss-building" books of the early aughts). While the novel makes a strong case for prioritizing play amid the chaos of this day and age, I'm still inspired to put in some work for this next chapter of life—and take a page out of Isa's book: dress up, work to live, live to the fullest, listen, look around (and then write it down). Often that's how the best stories reveal themselves. And if you ask me, those habits never go out of style.