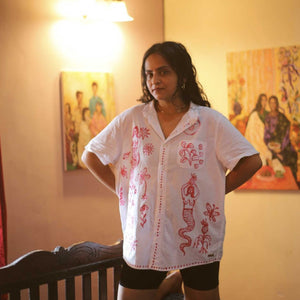 In Conversation with Manuja Waldia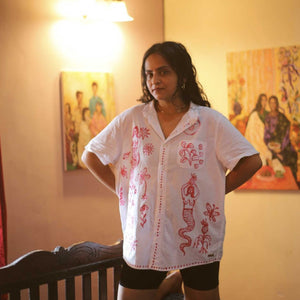 It's hard to look away from Manuja Waldia's art. Awash in eye-catching colors, her work captures both the vitality and gentleness of ordinary life. Take Troublemakers, which features a vibrant gathering of women over tea—or A Fruity Bunch, a communal scene that delights the senses. When asked about the latter's creation, Waldia explained that she "wanted to create a picture of abundance, a safe space of leisure, enterprise, self and selfless care for the marginalized."
With that in mind, Waldia's compositions warm our hearts and open our eyes to the world. She transforms our puzzles from everyday objects to portals for discovery. Think of it this way—when you assemble Waldia's art piece by piece, you'll notice just how much magic is in the details.
What is your relationship to art?
Art helps me in anchoring my daily routine in creative activity. For me, studying to make art, painting, and drawing are some of the biggest sources of dopamine, energy, and self-esteem. While making art, I am not only driven by a desire to carve out a space within this patriarchal-capitalist world but it's also rooted in genuine joy and a way to explore identity and self-expression. Artistic effort and creativity can transform the mundane banality of everyday life into beauty.
How does a drawing typically begin for you?
It's a varied process. Sometimes, it's all about capturing a certain mood or vibe that I'm feeling or witnessing IRL. Other times, it's more literary in nature—I adore drawing inspiration from history, family archives, pop culture, art history, cinema, and literature.
Aside from your art practice, what is an ordinary habit that best captures who you are?
I enjoy coffee a few times a day and love to stare at the beautiful natural beauty I am surrounded by in tropical Goa!

What do you hope to do—or notice—more this spring?
The various birdcalls, flowers, fungi, and trees of Goa.

Manuja's Spring Habit Guide
What is your ideal spring puzzling environment? On my porch, surrounded by ancient trees and birdcall.
What is your favorite spring habit or indulgence? Plucking and foraging wild jamuns, raw mangoes, cashew apples, and mangosteens right off trees.
What drawing captures the essence of spring for you? Antoine Watteau and Fragonard's scenes of leisure.
What is your go-to spring color palette? Warm tropical oranges, pinks, and yellows.
What will we find in your fruity bunch (or market bag)? Peanut ladoo, bhangra fish, tropical fruits, and locally baked Goan breads poi, ferma, and kaatre.