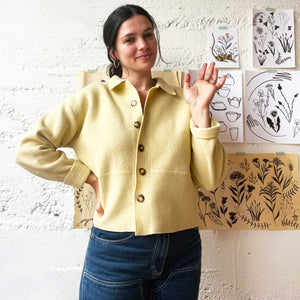 In Conversation with Elana Gabrielle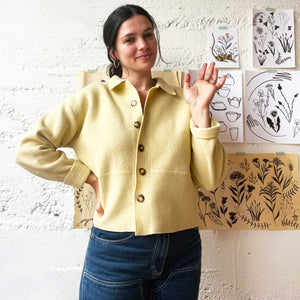 Art imitates life—and encourages us to look at the world more closely. Take Elana Gabrielle's attentive approach, for instance. From linen goods to prints to stationery, there is a clear through-line in the artist's work: details from natural landscapes remain front and center.
Unsurprisingly, Gabrielle's earthen elements seamlessly translated into our new Summer Garden Matching Cards. "I was in the midst of garden planning and feeling inspired by all the seeds I was sowing and all that I was hoping to grow," she said when asked about bringing the set's artwork to life. "I was reminded of how much I love creating collections of items and designs. While I love a simple one-off, there is something really special about contemplating the whole and the sum of its parts. The coordinating colors and texture and complimentary shape—it's a bit like piecing together a puzzle!"
Whether you're planting a new seed or cultivating your inner garden, Gabrielle's art is a welcome reminder to embrace your environment—no matter the season.
What is your favorite artistic memory?
My grandma taught me a lot about art—sewing, painting, beading, crafting of all sorts. I have a lot of wonderful childhood memories of visiting her in Chicago during the summers and sitting in her art room listening to the cicadas and learning how to sew by her side. I felt really grown up sitting at the big table, making something with my own two hands. That's a very special memory for me!
You create printed goods for the body and home. What is your relationship with home like these days? How does it help you feel grounded in your body and mind?
My partner and I are actually looking for a new home, so my relationship with home right now is changing, visioning, and dreaming! We've nested in our current space for seven years, and though we love it, it's time for a change. I'm dreaming of garden space, wooden floors, bright natural light, and space to create. My home is my foundation and my most grounding space. I love lining my collected shells and rocks along the windowsills, making tea in the sunny kitchen in the mornings, watering my plants. It centers me, grounds me, and inspires the products that I make!
What are some exciting challenges that come with making things that are both beautiful and functional?
With my intention of making my goods both beautiful and functional, sometimes I design something that doesn't really serve a purpose, which I have to think a little bit extra about. I always want to find a balance, and not everything needs to serve a purpose, but I do think about what effect the materials might have on the earth or what I am bringing into the world.
What environments or details do you often capture on the page?
I find myself capturing spaces I grew up in, reminiscent of Northern California wilderness—oceans, tidepools, meadows, grasslands, rolling fields. I love illustrating wildflowers, mermaids, horses, and ladies, too!
How do you engage with nature outside of your creative practice?
I try to spend as much time as I can exploring nature and plunging into bodies of water! I tend to my garden, create medicines and remedies with my homegrown herbs and flowers, and I dream of beekeeping someday soon.
What has been the most rewarding aspect of partnering with Ordinary Habit?
It's been so special getting to collaborate with Tre and Echo. I mostly work alone in my studio. Getting to bounce ideas around and share inspiration with other creatives is so wonderful!
Elana's Summer Habits
What changes about your home in the summer? The light shifts, we keep the doors and windows open, and I like to declutter and clear my space so it feels open and breezy!
What is your favorite summer habit or indulgence? Oh, I absolutely LOVE walking out to my garden and picking sun-warmed tomatoes off the vine. An extra tasty treat is wrapping them up in a fresh basil leaf with a sprinkle of flaky salt—the best summer treat.
What is your favorite time of day in the summer months? I love early summer mornings. The dappled light coming through the trees, the warm breeze, drinking coffee on the porch, and feeding our "pet" squirrels is bliss!
What is your dream summer vacation destination? Anywhere I can
jump into the sea or a river! Somewhere I can meet new plants and creatures. Somewhere I can find treasure and textiles and feel a deep sense of relaxation.
What is your preferred summer color palette? My current favorite summer colors are tangerine orange and lemony yellow!
What artwork best captures the essence of summer? Rather than specific artists, certain types of art capture the essence of summer for me: beautifully colored ceramics, naturally dyed textiles, freshly made teas and salves, freshly laundered linens, tattoos, watercolors, beautiful fresh foods with flowers! I love seeing how other artists' practices change seasonally and what they create during different times of the year.