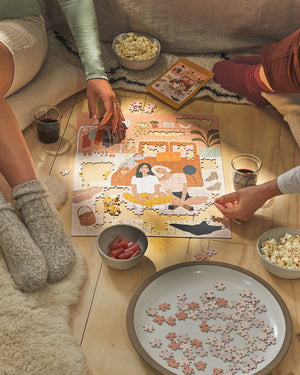 Puzzles We Love—for the People You Love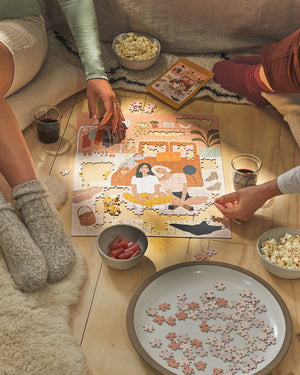 Here are a few things we love: A light dusting of snow on the window pane. The hiss of the radiator alerting us of a change in season. The faint itch that comes after wearing our favorite wool sweaters for too long. The first sip of hot coffee in the morning. The rhythmic beating of our hearts in our chests. The way it intensifies when we care for our others—when we care for ourselves.
Many of the moments that have become synonymous with Valentine's Day are ones we value year-round at Ordinary Habit. But, if given a chance, our team takes any opportunity to indulge in the rituals that make us feel loved. This idea is especially true for our founders, Echo and Tre. "Our family is big on love, so Valentine's Day is a time for one or two more hugs than normal and an excuse to get crafty," Echo shared. "I was absolutely that kid who gave everyone in the class a handmade card, and more times than once, heart-shaped Rice Krispie treats. A day to celebrate loving yourself—and those around you—is a-ok in my book!"
There's nothing more important to us than cultivating a habit of care and connection. Today, we're sharing a mini gift guide for love in all its forms. Whether you're shopping for a significant other or your lifelong friend, these puzzles and play essentials will delight this Valentine's Day and beyond.


FOR THAT SPECIAL SOMEONE
Love is in the air, and that special someone is on your mind. Take date night to new heights with our 100-piece Puppy Love puzzle by Ana Jaks. This adorably-rendered pup is the perfect gift—and companion—for your other half, no matter the occasion.


FOR YOURSELF (CARE)
Buy a bundle of joy for the one person who's there no matter what—you! Our collaboration with Studio Proba features a design-forward 500-piece puzzle and handmade pillow cover. Carefully crafted and made for everyday play, this bundle checks the boxes in style and self-care.


FOR YOUR BEST PAL
Nothing is puzzling about winding down and hanging out with your best pal—and our Hanging Out Puzzle. Designed by Carla Llanos, this golden-hued puzzle artfully pays homage to friendship. In other words: One night in, five hundred pieces to assemble, and endless memories await.