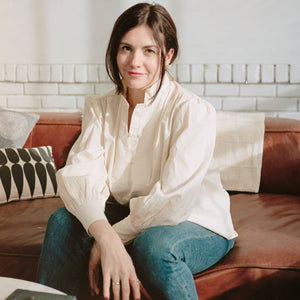 Sundays with Kate Arends of Wit & Delight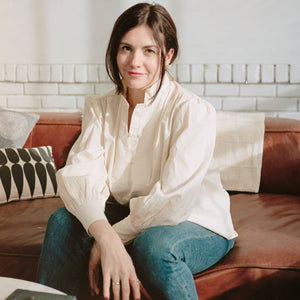 Sundays With is a monthly series that will highlight the routines, habits, and rituals of folks in the Ordinary Habit community. We'll be exploring what helps them close out their week, and get ready for what's ahead.
For years we've been fans of Kate, and the world she's created at Wit & Delight. Started in 2014, Kate began publishing personal essays about her life, design, travel, and everything in between. She lives in St. Paul, Minnesota with her extroverted husband, Joe Peters, son August, daughter Bennett, and their sweet English labrador, Winnie Bear.
What do you most look forward to on Sundays?
REST! And having the time to cook more elaborate meals, or spend time catching up on a bigger project.
How do you reset and prepare for the coming week?
I do most of our tidying and organizing on Sundays. I'll clean out my purse or organize my make-up drawer, chipping away at whatever needs my attention so everything's ready to go in the morning.
Is there a ritual you find yourself doing each week on Sunday?
Since having kids, not so much. The one thing I try to never skip is my skin-care routine. Sometimes I'll extend it well into the evening, doing facial massage, masks, and multiple serums. The process reminds me to love myself even when I don't feel like it.
How has your notion of Sunday changed over time? Especially this last year.
Sunday is a state of mind. Yes, it's the day we reset and start a new week, but once I started realizing how badly I needed those moments of time to unwind, I started finding small ways to reset during the week. You don't always need hours to devote to self-care rituals to benefit from the practice.
What do you call that feeling that creeps up on us on Sundays?
The Sunday Scaries! Usually, it's my cue to start unpacking the weekend and getting into the present moment. I usually get this feeling when I've had a super-packed social calendar and haven't connected with myself in some time.
A satisfying Sunday dinner to avoid the feeling of Sunday evening?
A wonderfully aromatic soup or roasted chicken.