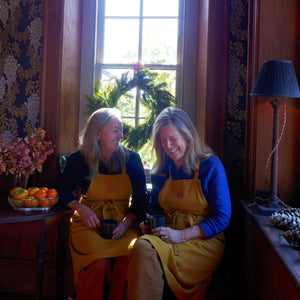 At Home with Canal House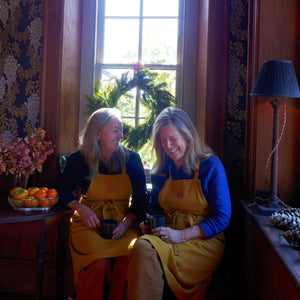 Melissa Hamilton and Christopher Hirsheimer are self admittedly home cooks first, even though they've published numerous award-winning cookbooks, and have now opened a new restaurant – Canal House Station. But mostly, they're simply dear friends of ours. Using mostly basic techniques and simple ingredients, they make creating a meal look so simple, yet it always turns out incredibly irresistible and so delicious.

Christopher and Melissa agree that puzzle time most often calls for nibbles. A pantry-inspired snack, and a wonderfully bittersweet Negroni are a perfect duo. 
Canal House Negroni
(makes 2)
A Negroni is a simple combination of equal parts Campari, sweet vermouth, and gin. We've ordered Negronis in unlikely places, once in a plasticky Eurasian disco bar in Taipei. How hard could it be for a bartender to screw it up? The formula is so simple and relies completely on the guaranteed goodness of what's in the bottles themselves. But you'd be surprised. We've had them arrive in water goblets packed with so much ice you'd think we'd ordered iced tea, or shaken so vigorously they looked like tropical pink smoothies. We're happiest when it is made elegant, aperitif size, in a stemless glass with just a couple of large rocks and a sliver of orange, more rind than flesh. Its digestive qualities makes it a perfect drink to stimulate the appetite. — Christopher & Melissa


GATHER
1 1/2 ounces gin
1 1/2 ounces sweet vermouth
1 1/2 ounces Campari
2 small orange slivers
CREATE
Pour the gin, sweet vermouth, and Campari into a tall glass and stir gently. Pour into two short glasses with a couple of large ice cubes in each. Rub the rims of the glasses with the slivers of orange, then add an orange sliver to each.



Dates & Buttered Wheat Crackers
(Makes as many as you want!)
We were feeling a bit peckish, but too lazy to go to the store. We put the kettle on and rummaged around in the pantry to see if perhaps there was a cookie or two hiding out behind a jar of pickles. No luck! But on the top shelf, a box of Carr's Whole Wheat Crackers was sitting right next to a package of Medjool dates. As the tea brewed, we generously buttered the crackers with a good smear of Irish butter and pitted the dates. We ate and sipped by the fire, content to be right where we were. — Christopher & Melissa