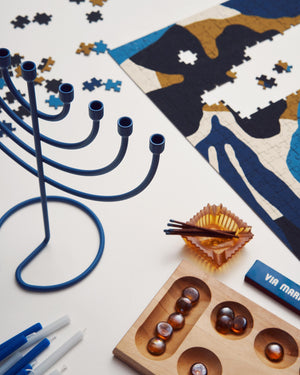 At Home for the Holidays with Via Maris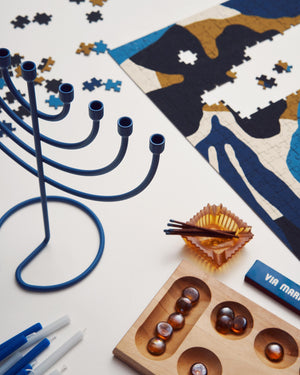 Chanukah Traditions with Dana Hollar Schwartz of Via Maris

Shalom, hello. My name is Dana and I'm the founder of Via Maris – a new brand of modern Judaica, which is the name for Jewish objects. 
The idea for Via Maris was born out of the realization that it is nearly impossible to find Judaica – some of the oldest design objects in the world – designed in the Modernist style. The vast majority of Jewish objects available were really traditional, making the objects difficult to connect within a contemporary context. 
One Jewish object you're probably familiar with is the menorah, a candelabrum that we light during the eight nights of Chanukah. 
Chanukah is my favorite holiday, which I only really learned to appreciate as an adult – ironic because it's generally thought of as a kids holiday. It's not religious, instead it's a celebration of light. The only observance is to create light through the ritual of lighting the menorah. 
In usual times it's also a holiday to see friends and family, eat, light the menorah together, and play games. Games have always been a customary part of celebrating Chanukah – spin the dreidel being a classic, but you'll also find puzzles, cards, charades, mahjong, and more. 
Lighting candles is a huge part of Jewish culture, it's also a weekly ritual, and Chanukah is the annual holiday that celebrates everything surrounding light. To me the simple ritual of lighting candles, particularly after a very long and challenging year, is a welcome reminder of our ability to create light all around us. I think this is universal, and anyone can feel empowered by this sentiment.  



A traditional Chanukah meal includes food fried in oil (oil represents light), the most popular being potato latkes and donuts (called sufganiyot in Hebrew). My personal favorite fried-dough recipe comes from Moroccan Jews, who fried Sfinge around the holidays. Sfinge are light, airy donuts similar to an Italian zeppole. What I love about this recipe is that the sfinge ends up with a texture reminiscent of challah (a Jewish bread similar to brioche) and just the right amount of sweetness. They are meant to be irregular so it's a good recipe to attempt yourself. 
This year Chanukah begins on December 10th - you can celebrate my favorite holiday by doing a puzzle, lighting some candles, and eating some donuts. 
Chanukah Sfinge
GATHER
1 tbsp dried active yeast
4 - 5 tbsp sugar, to taste
Vegetable oil for frying 2" inches in depth 
CREATE
Make your yeast starter by dissolving 2 tablespoons of sugar and 1/2 a teaspoon of salt in 4 tablespoons of warm water in a small bowl. Stir in 1 tablespoon of dried active yeast. Let proof for 15 minutes.
Sift the flour into a mixing bowl. Make a well in the middle with your hands. Pour the yeast mixture into the well and begin to mix with your hands. Add a little warm water from time to time as you mix, until it is the consistency of a stiff dough.
Then, knead the dough for 10-15 minutes (by machine or by hand), pulling the dough away from the bowl until the dough is smooth and elastic and very worked. 
Little by little, add the remainder of water, about 2 tablespoons at a time, into the bowl. Continue kneading the dough in the bowl until all the water is dissolved and the dough is spongy, very elastic and very sticky.  
Lightly oil a separate mixing bowl and oil your hands! Transfer the dough (it's sticky) with your oiled hands to the oiled bowl and cover with a clean kitchen towel. Leave it to rise for 1 – 1 1/2 hours at room temperature. 
When the dough has doubled in size, remove the cover and punch the dough into the bowl one more time.
Heat the frying oil in a pan on high heat until it reaches 175°C/365°F on an instant-read thermometer. 
Oil your hands again and take a piece of dough the size of a golf ball and make a hole in the center using your fingers and twirl the dough to enlarge the hole again to the size of a golf ball. 
Place the ring of dough into your frying oil, turning once or twice until the dough is golden brown on both sides and puffy, about 2-3 minutes.
Using a slotted spoon, transfer to a wire cooling rack with a sheet pan underneath to catch any excess oil. Sprinkle with the remaining sugar, and repeat evenly with the remaining batter.