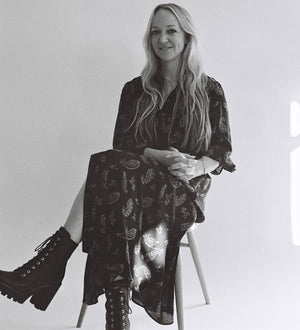 At Home with Claire Ptak of Violet Cakes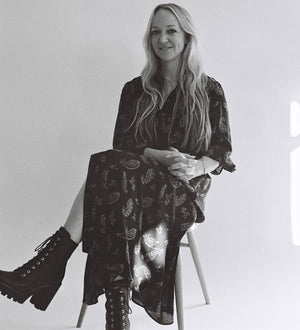 In what now seems like another lifetime, our founder Echo lived in London for a few years, and worked at a most magical bakery tucked away in East London – Violet Cakes. After completing her Master's degree, she was connected with Claire, and an instant bond was formed. In the years that have since passed Claire, and Violet Cakes, has become renowned the world over, even making Harry + Meghan's Royal wedding cake. There's no one more fitting than Claire to share a recipe perfectly paired with Holly Jolley's Secret Jungle Tea Party. We think our lioness would approve.


Honey & Rosewater Madeleines
(Makes about 12 madeleines)
Antique madeleine molds were one of the first things I hung up on the wall at Violet when I opened it. These beautiful hand forged molds came to me through a friendly customer from the early days of the stall on Broadway Market. He came weekly with his wife and young daughter to buy cakes and have a chat and one week he came armed with these wonderful antique tins. I bought two of the four or five he had and now I always kick myself for not buying the lot. I adore madeleines and always have. My mom introduced them to me as a girl. I love the delicate seashell shape and the fact that they are like a mini cake more than a cookie. They are best made and eaten straight away. – Claire


GATHER

 100g unsalted butter, melted and cooled slightly, plus more for buttering the tin
1 tbsp honey
2 tsp rosewater
100g caster sugar
2 (about 100-110g) eggs
100g plain flour, plus more for dusting the tins
¾ tsp baking powder
200g powdered sugar
Rose syrup*
*Claire uses Rose Brand Delicious Syrup from T.G.Kiat in Singapore, but you could use rosewater and a little pink food coloring, or just make without the colour
CREATE

Preheat oven to 325°F. Brush a good amount of melted butter into your madeleine mold and dust it with flour. Place the mold in your freezer for 5-10 minutes and then repeat the process. Keep the mold in the freezer until you are going to use it. This trick really works!

Carefully melt the butter and then remove from the heat to cool slightly. Add the honey to the butter to dissolve it, and then add the rosewater.

In a bowl, whisk together the caster sugar and eggs until smooth. Whisk in the melted butter mixture.

In another bowl, whisk together the flour and baking powder. Whisk this mixture into the egg and butter mixture until smooth. Spoon the batter into the prepared molds.

Bake in the oven for 10-12 minutes, or until they have formed a peak in the middle, and spring back to the touch.

Remove from oven and cool for a minute or two before turning them out of their molds. Serve right away. Best if consumed within the hour. You can make the mixture ahead and bake it off just before you want to serve them.

Whisk rose syrup into the icing sugar until it is runny. Dip warm madeleines into the icing.

Madeleine photo by Kristin Perers
Portrait photo by Pia Riverola