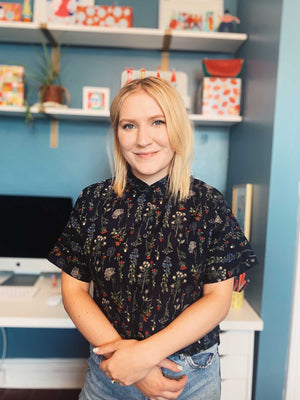 At Home with Molly Egan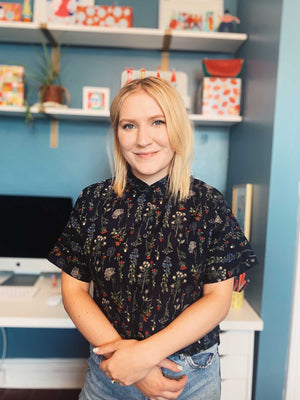 We were immediately drawn to Molly Egan's work for its joyous quality, and bright, bold colors. It's a delight putting together her mini puzzle – Good Morning – and we always wish we could transport ourselves to such a warm and cozy scene. Here she shares one of her go to recipes, that's perfect for the cooler months ahead.

Puttanesca has become one of my go-to quick meals, since my partner and I keep most of these ingredients in our pantry. I'm not a chef by any means, but this is the recipe I've come up with for making my sauce. It's spicy, salty, and comforting - my favorite combination. The sauce works great over bucatini or ladled on top of a no knead focaccia to make tomato pie.
Puttanesca Sauce
Serves 4 
GATHER
Olive oil 1 shallot (can also sub onion)
4+ cloves of garlic
1 quart of cherry tomatoes (if in season)
A squirt of anchovy paste
Kalamata olives
Capers
28 oz can of whole San Marzano tomatoes
Salt and pepper to taste

CREATE
Chop shallot and garlic finely. If you are using fresh cherry tomatoes, cut them in half. You can also dice your olives at this point.
Add olive oil to a pot and cook shallot and garlic until fragrant.
Add pepper, red pepper flakes, and anchovy paste. These amounts are all up to you! It depends on how spicy and fishy you like your sauce. You can also omit anchovy paste if you are vegan, the sauce will still have plenty of flavor.
Now put a tablespoon of both olive and caper brine into the pot.
Once the onion garlic mixture absorbs the liquid, put your fresh tomatoes (if using) into the pot. Cook the tomatoes until they burst. You can also press on the tomatoes with a wooden spoon if they are cooking but not bursting.
Add ½ cup of olives and ⅓ cup of capers to the pot.
Open your can of San Marzano tomatoes and put them in the pot. Then squish the tomatoes to break them into pieces. Cook down until the sauce reduces a bit. You might need to add salt to taste, but the brine normally provides enough.
Optional: If you want a smoother but still flavorful sauce, feel free to blend your sauce a bit with an immersion blender. I don't typically do this for pasta but definitely do it when I'm making tomato pie!
Follow Molly @mollytheillustrator