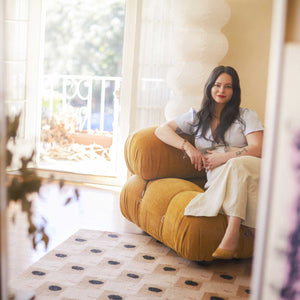 Take Note with Marleigh Culver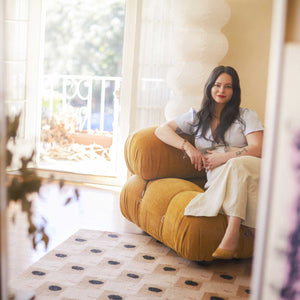 To celebrate the launch of our new journal, For Now, we're spotlighting creatives who take note of—and celebrate—the ordinary things in life. In our third installment, we hear from Marleigh Culver, an artist based in Los Angeles, California.
There is an expansive quality to Marleigh Culver's art. Her colors inspire, and her compositions soothe. At Ordinary Habit, we've been longtime admirers of Culver's vibrant creative practice and feel fortunate to call her a collaborator. We first teamed up on the launch of the Migula Puzzle and, more recently, the For Now Journal, which features Culver's simple but striking drawings across multiple pages.

Visual talents aside, Culver also treats writing with reverence. While her journaling habit has fluctuated over time, it still inspires deep reflection. As she puts it: "A journal is a silent and receptive listener." With that said, seeing Culver's work on the page is an invitation to savor the present moment. Write between the lines, or sketch with abandon—Culver's art always creates space to slow down and take note.
As a visual artist, does writing play a role in your practice? What kinds of writing or stories inform your aesthetic?
I would say there is a marriage between words and images. The abstractness of my work encourages viewers' personal interpretation, which can also make it tricky to describe it accurately. Recently, my therapist noted that my approach to my work is the purest expression I give of myself, as well as working in a pre-verbal area like babies do. I thought this was fascinating as I always have had a hard time talking about my work. But as I read about artists and books that describe artists and their ways, especially in fiction and essays—think Rachel Cusk or Olivia Laing's Funny Weather: Art in an Emergency—I realize how much we all innately understand about art.

We may not be able to put so much in words but reading how others describe works—even in a very detailed, tactile manner or abstract and dreamy way—helps to connect the dots between writing and art. I guess writing doesn't really inform my aesthetic, but it does provide outlines and direction for understanding my work. I'm fascinated by how beautiful writing about art can be.

You worked closely with our team to bring the For Now journal to life. What was the process like? Knowing your art would be paired alongside writing prompts, what were some creative considerations you had to make?
I wanted to provide open-feeling abstract sketches from my archive to inspire thinking and reflection. Looking at outlined, layered pieces allows the journaler to disappear into thoughts while being cradled by imagery that is engaging at a basic level. It's amazing where your brain can go when you are looking at something unfamiliar or less-defined.

What do you hope to build upon in your journaling habit? Are there specific themes or ideas you find yourself writing about lately?
I had to rely on journaling this year to express absolute honesty in some areas of my life that I was afraid to face. Journaling is very sacred and special. It's a place where you can unload and create new space in your brain—you can write down something, reread it, and see it in so many different ways.

I was journaling every day for over a month, and then I had to move between apartments, so I lost my streak! But I can't say how life-changing it's been to integrate it into my daily to-dos. I write about my feelings deeply, my relationships, and my self-talk. I'm struggling in a major area of self-love, so my journal is the only place besides therapy I feel comfortable talking about it and feel heard by someone, even if it's pages written by me. A journal is a silent and receptive listener.

What journaling prompt would you give to the Ordinary Habit community?
Write down times when you have held yourself back. Imagine someone you love in that position. What advice would you give? Can you talk to your younger self at that moment? How would you talk to them?

I know "inner child" has become a widely accepted concept in mental health lately—but it truly has clicked how I perceive that and how I can physically feel myself at younger stages struggling with understanding my feelings and reactions. We all move through life so quickly that we do not give ourselves enough time to process. What are you currently processing right now?
Footnotes
If you could read any artist's journal, who would it be and why? I'd be really interested to read Julie Mehretu's journals. I've followed her since high school, and I find her approach to scale and dimension so intriguing. I love her work so much.
Do you journal in the morning or at night? I prefer morning or daytime. By night, my brain is worn down and less organic and surprising, so I like the fresh approach earlier in the day. But if something comes up, I'll always write it down, especially in my phone notes app, and write it in my journal later. The Artist's Way inspired me to journal in the morning. It's very dated, but there are some valuable approaches and exercises in it.
What's your ideal journaling environment? I love to have a candle lit. I listen to my playlists with noise-canceling headphones. I need natural light, a window open, and greenery around me. I need a clean desk, maybe some kombucha or tea, and lots of water. I do journal outside in public, where I can also disappear into noise and nothingness.
What's your go-to journaling tip for those just starting? Don't pressure yourself about how much you write or what you say. Be absolutely honest and—if you can—maybe dissect what you say, write something, and take it in two directions. See what else is hiding in the layers you haven't realized yet. This is your time, and you deserve to feel heard, even by your own self.
[ Get your own FOR NOW JOURNAL HERE ]