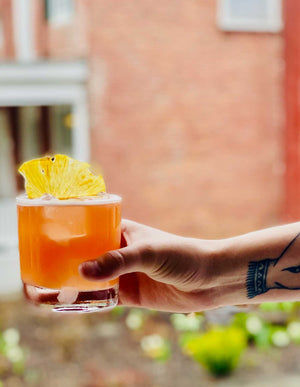 A Thanksgiving Cocktail from our friends at Ransom Tavern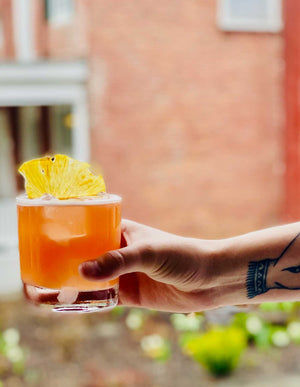 Over the past several months, our co-founder Echo has had the pleasure of spending time up in Vermont with dear friends, including Simi and Joe, who run The Ransom Tavern, in South Woodstock. Many evenings have been spent sat up at the bar, sipping cocktails, and devouring their incredible pizzas, and a personal favorite – the Un-Wedge Salad. If you're ever in the Green Mountains of southern Vermont, make sure to stop by!
Here's a cocktail from a summer menu but I think works for the fall as well. It's a riff on a Jungle Bird, which brings bitter balance to the tiki formula – with dark rum, Campari, pineapple, lime, and simple syrup. Our house version features locally made, barrel aged Tom Cat gin from award winning distillery Barr Hill and maple syrup because… Vermont.
Jungle Cat
1.5 oz Barr Hill Tomcat Gin
.5 oz Campari
 1.5 oz pineapple juice
.5 oz lime juice
.5 oz maple syrup
Shake all ingredients with ice until well chilled. Strain over a large cube of ice in a rocks glass. Garnish with dried pineapple.
Note: Fresh or organic pineapple juice is best, if you can find it!
Follow @ransomtavern