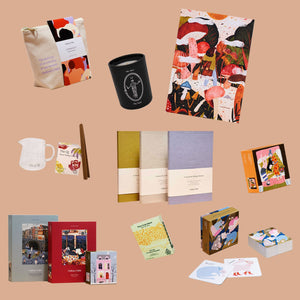 Gift Guide: Presents for the Present Moment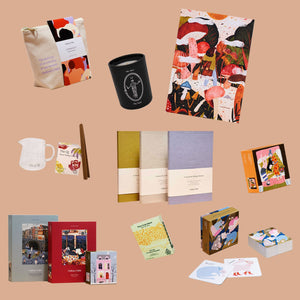 Take a moment to pause. December is here again. The chill in the air brings everything to a halt. The pale blue sky darkens earlier and earlier with each passing day. The candle flickering on the mantle draws your gaze up and toward the window. Look outside—what do you see?

With the holiday season just around the corner, there's never been a more critical time to slow down and take note of the little things. Naturally, our co-founders, Echo and Teresa, remain committed to this idea. "Making space for little moments to yourself is something I try to practice daily—especially during the holidays," Echo shared. "Whether that's getting up and reading for fifteen minutes in the morning or taking time to write in a journal at the end of the day, the space that's created helps keep me sane and ultimately more present when I'm with friends and family, too!"
As the world returns to a faster pace, our annual gift guide pays homage to the beauty and power of paying attention. Give the gift of connection with goods that inspire presence—all year round.
* * *
FOR THE DAYDREAMER
End the year by dreaming big and gifting thoughtfully. Whether it's our first-ever journal or one of our mainstay puzzles, we've got the perfect picks that check the boxes in mindfulness, design, and fun! These gifts are guaranteed to make (day)dreams come true this holiday season—and beyond.
For Now Journal
Gift givers, take note. Our guided journal features 50+ prompts that encourage attention and reflection. Select one of three calming colors—Cornflower Blue, Pebble Gray, and Bright Lime—or buy a bundle for a little more cheer. In any case, For Now is the perfect present to help loved ones stay in the present moment.
Magic Forest Puzzle by La Jeanette
You may not always have a winter wonderland, but thanks to La Jeanette, you can still indulge in seasonal splendor. This 1,000-piece puzzle is full of rich colors and details that, when completed, transport puzzlers into a world of enchantment. But there's no sense in rushing to get there! Magic Forest will surely slow you down and make the little things more magical (no matter the season).
Ash + Ruin Candles
The Ordinary Habit Marketplace features a curation of products from brands we love. Ash + Ruin's candles remain a team favorite. Light one of these chic candles at dusk, and you'll have an instant addition to your holiday decor. With three rich scents—Lost Forest, The Void, and Dark Altar—there's truly something for everyone.
FOR THE FAMILY
Can you recall when you last enjoyed quality time with loved ones? As a family-run brand, we pride ourselves on creating products that inspire connection. So, with the year coming to a close, bring your people closer together with these timeless gifts.
Holiday 2022 Puzzle Bundle
Less might be more, but the holiday season always calls for more joy! Put a puzzle under the tree or gather around the table with your nearest and dearest. Our Holiday 2022 Puzzle Bundle includes one in every size featuring gorgeous artwork from Angela Mckay, Rachel Victoria Hillis, and Maja Tomljanovic.
Good Morning Puzzle by Molly Egan
Rise and shine! Our Good Morning Puzzle is the perfect companion for holiday break. Put it together with family or during a solo afternoon of self-care. When completed, this vibrant 100-piece puzzle renders a soothing scene that will warm your heart.
The Qi Floral Tasting Collection
Deck the halls and start the kettle: The Qi Floral Tasting Collection is back! This (vegan and organically grown) tasting collection includes three varieties of floral tea: Royal Chrysanthemum, Shangri-la Rose, and Blue Lotus. No matter their palate, your giftee will have something delicious to sip on through the cold winter months.
FOR THE ONE ON THE MOVE
You can still make time to slow down even if you're on the move. From mini puzzles to matching cards and more, these little presents will bring a big smile to your giftee's face.
Feline Friends Matching Cards by Holly Jolley
Life moves fast, but ordinary moments don't have to. Give the gift of presence with our Feline Friends Matching Cards. This 54-memory card deck takes fun and games to a more intentional level. Easily portable and appropriate for all ages, consider this the perfect present for your busiest friend or family member.
Community On The Go Puzzle by Shanée Benjamin
No shopping list is complete without Shanée Benjamin's Community Puzzle. This 100-piece puzzle is an artful reminder to come together and celebrate the people who matter most. Pack it in your carry-on or complete it at the upcoming holiday party. It's guaranteed to inspire a good time—and always ready to go.
Gossamer Delights Gummies
Mellow your day with Gossamer's Delights Gummies. Made in collaboration with the edibles brand Rose Los Angeles (featuring a recipe by Natasha Pickowicz), this festive treat is truly a delight for the senses. Talk about a gift that keeps giving!