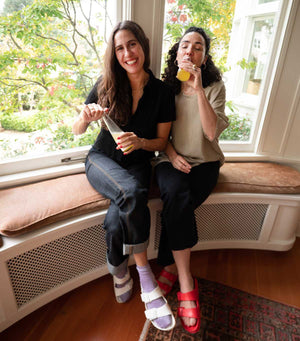 At Home with Zuzu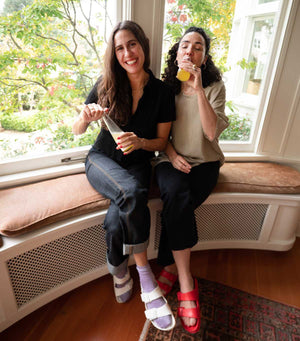 Echo and Ali met a lifetime ago when they were living in London, and from there their friendship blossomed. Fast forward to ten years later – Ali Schmidt, and her co-founder Greta Caruso, have started Zuzu – an incredible sparkling cocktail brand that is so good you won't be able to keep them stocked in your fridge. They're fresh, they're delicious, and they won't leave you with a hangover. Read on for one of their favorite spring snacks.
Spring produce in New York takes an eternity to arrive, so we're especially grateful that tender pea shoots and green garlic hit the NYC markets in April so we can our fix of that bright Spring flavor until asparagus, favas and shelling peas come to town. We love to pile the garlicky-wilted greens on ricotta toast because… well we're always looking for an excuse to make ricotta toast!
***
Pea Shoot, Green Garlic & Ricotta Toast
Serves 2 for a light lunch, or 4 for as a snack
GATHER

1 bag of fresh pea shoots
1 bunch of green garlic
1 cup of good ricotta
Olive Oil Black Pepper
Flaky Salt
A few thick pieces of crusty bread

CREATE
Clean and finely chop the green garlic.
Heat a glug of olive oil over medium heat in a pan, and add the garlic when the oil starts to shimmer.
Sauté the garlic until it just starts to turn a golden brown. At this point add a big ol' handful of pea shoots, and use tongs to coat the greens in oil. Turn the heat down a smidge. Cook the greens until they're wilted and tender. Add a little salt here, because why not.
Meanwhile, toast your bread. When the greens are almost done, rub the toast with any leftover garlic.
Spread the ricotta onto your toast and top with a thicket of greens.
Finish with some flaky salt, and fresh ground pepper.
Share a pea shoot with your dog (this is essential) and dig in!
Of course, pairs well with Zuzu!
Follow @drinkzuzu