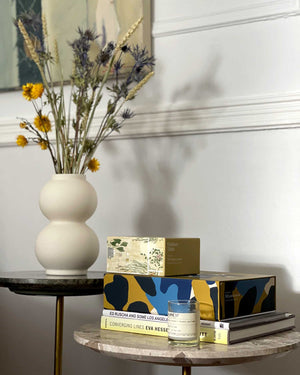 Ordinary Interiors: Puzzles for Your Place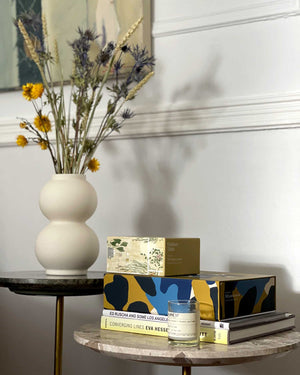 What details make a space your home? Is it the familiar texture of fresh linen on your bed? How about the array of magnets, family recipes, and old photos pinned on your refrigerator? Perhaps it's the feeling of calm after lighting your favorite candle?
At Ordinary Habit, we believe design can be a vehicle to help you reset and reconnect with the people and places that matter most. Since day one, our team has championed products that inspire everyday play—and are always ready for display. "Especially living in New York, it was important that we made something that you could have in your space and would want to see as you completed a puzzle," Ordinary Habit co-founders Echo and Teresa Hopkins shared. Our artful puzzles—made with recycled materials and a soft-touch, glare-free coating finish—perfectly capture this idea. "I'm a constant tinkerer when it comes to my bookshelves and my space," Echo added when asked about her puzzle box styling tips. "I love mixing books with objects from travels and puzzles, of course. Curating little vignettes around my house with stacks of books, a candle, and other bits and bobs makes me happy!"
Below, we're sharing an at-home styling guide filled with ideas for incorporating our puzzles into your space. Read on and let the (puzzle) pieces fall into place.
Practice Shelf-Care
As Echo mentioned, bookshelves can hold our favorite stories and memories. Arrange your Ordinary Habit puzzle boxes vertically with the artwork facing out to blend in with any book spines. Space-permitting, you can also dedicate a few design-centric shelves to allow the puzzles to stand on their own.
Tabletop Props
Side tables or coffee tables also pair well with our design-forward goods. Play with spacing and opt for a less-is-more approach. For instance, place a puzzle box on or alongside one or two larger books, throw in an object or vase, and voilà!
(Color) Palette Your Puzzles
We proudly work with artists from around the world to bring our products to life—the result is an aesthetic variety that appeals to several design sensibilities. But, when in doubt, color-coordinate! Start by grouping your puzzle boxes by hue or palette. Depending on your interiors, you may choose to display a warmer or cooler grouping. Either way, you'll have a vibrant feast for the eyes.
Organize by Size
The art of stacking is a practical solution for small spaces or sprucing up nondescript corners. Stack your puzzle boxes in size order for a clean look, or play with the orientation of each box for a more sculptural vibe.
Piece Together Your Gallery Wall
Unbox our 500-piece and 1,000-piece puzzles, and you'll notice that each set comes with a 5 x 7 inch postcard of the finished artwork. After you complete your puzzle, try framing the postcard. You'll have a new deskside accent or addition to your gallery wall!