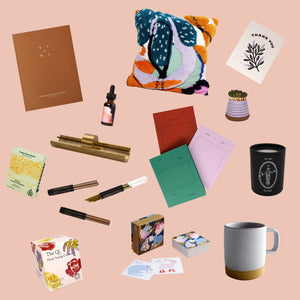 Holiday Gift Guide 2021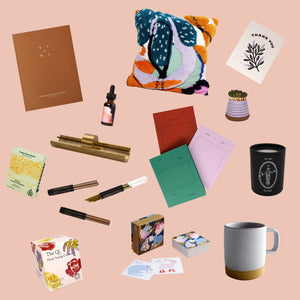 Here is a scene that's unfolding: Candles gently flicker on the mantle, scents of pine and cinnamon waft through the corridors, bluish light casts soft shadows on the walls, faint traces of our favorite winter playlist add texture to the soundtrack of city life. The most wonderful time of year is upon us once more.
As crisp temperatures beckon us home, we can't help but slow down and reflect on all of the good this season gives us each year. And when we asked our co-founders Tre and Echo to share a resonant holiday memory, their answer was simple. "My mom and I have a tradition of giving each other rings," Echo explained. "Together, we bought a ring that I wear in Florence. Then, I bought us matching rings, and she bought me another one from Sardinia when she traveled there. I wear it daily—it's nice to look down at your hands and be reminded of your family."
In many ways, this anecdote reinforces just how much we value connection and community at Ordinary Habit. So this holiday season, we're building on our mission by giving you even more ways to engage in artful, everyday play—together, at last. Enter the Ordinary Habit Marketplace, which features a curated selection of brands that we know and love.
To kick off the festivities, we're thrilled to bring you this habit-inspired gift guide which includes a few products to help you live more consciously. We hope these goods inspire your loved ones to reset and reconnect this holiday season (and beyond).
FOR THE CREATURE OF HABIT
Not sure what to get for the one who has everything (set in stone)? As champions of everyday ritual, we understand the allure of familiarity—especially after a year of change. From scent to sleep, these lifestyle essentials will take your loved one's ordinary habits to the next level.
It looks like the holidays, but it smells like the start of something special. Ash + Ruin's candles will add fragrant flare to your everyday routines. Light up your life—or start a new scent ritual—with aromatic blends like Dark Altar, Lost Forest, and The Void.
We're always on the hunt for the perfect candle in our homes – not too strong, not too faint, nothing overly perfumed, and these really hit the mark. It also helps that they're made by our dear friends up in Vermont, who are not only meticulous but also share the same candle ethos.
Sleep better this holiday season with Gossamer's coveted Dusk and Delights tinctures. Add these formulations to your wellness rotation—or as you build a new (read: much-needed) R&R habit. From day to night, these are the gifts that keep on giving.

It's not an exaggeration to say that these have a permanent spot on our nightstands. Dusk is the first CBD that's successfully put both of us to sleep.

The Qi's floral teas are a feast for the mind, body, and soul. Select one of three varieties from The Qi's Floral Tasting Collection and take your tea-time habit to new heights. Or, indulge in their Daily Ritual Set, and add a splash of calm as you wade through your daily routines.

Almost too beautiful to consume, when we first saw The Qi's floral teas, we couldn't believe they were drinkable. Delicately flavored, they are a wonderful warming ritual for the afternoon.
FOR THE CREATIVE HABIT
Whether it's journaling or letter-writing, we'll take any excuse to unplug and indulge in the art of living. These curated tools will inspire your giftees to rest, reconnect, and nurture a creative habit (just in time for the new year). Don't delay—do doodle—and give the gift of creativity this holiday season.
Spreading holiday cheer is always a good idea (and habit). Goods Gang's simple—but standout!—greeting cards are the perfect canvas for holiday reflections, connections, and other correspondences. Fill in the blank, and bring a smile to their face.

We love to have a stack of cards handy for every occasion. These super simple cards, are beautifully designed and leave room for witty remarks!
'Tis the season to reflect—so write it down (and let it out) with Me Est Me. While lovingly made in Southern California, the Me-est Me Journal is universal. This guidebook is filled with thoughtful prompts and action items to help you reconnect with yourself and build a habit with heart, page after page.

Sometimes journaling can be daunting, when you open a blank page and don't know where to begin. Me-est Me helps solve that, easing anxiety with prompts.

Put pen to paper and give the gift of connection this holiday season. Wild Hart Paper's illustrative greeting cards put the art back in heartfelt. And if you're a fan of Wild Hart Paper's aesthetic, also check out their Learn Your Leaves Matching Cards.

For fans of whimsy, these cards never cease to bring a smile to our faces. A childhood friend, Wild Hart Paper cards are never far from our reach.


FOR THE HOME HABIT
Even as the world picks up speed, our homes remain a place of slowness, solace, and celebration. These design-forward objects will inspire a variety of spaces and interior sensibilities. After all, home is where the heart is—and where ordinary habits thrive.
Cinnamon Projects gives calm, cool, and collected (read: collectible) a new level of meaning. These chic, handcrafted incense holders check the boxes in design and durability. Choose an incense suited to the time of day—from 2AM to 8PM—and cultivate a home habit that delights the senses.

Cinnamon Projects incense and their incredible brass holders make all other incense pale in comparison. Thoughtfully designed, and wonderfully scented, we're hooked.

Warm your beverage (and your heart) with the Wander Mug from Settle Ceramics. Carefully handmade in Austin, Texas—and available in two distinct colorways—the Wander Mug adds a stylish touch to a timeless tradition. Simply put, your morning coffee habit just got a whole lot more beautiful.

Someone once made fun of me for walking around a shop cradling mugs in my hands until I found the perfect one… that is until she had the same experience. This mug fits perfectly in your hand, and is just the right size. Not too big, not too small.
In addition to our marketplace brands, we're throwing our hat in the holiday shopping ring! While you may know us for our art-forward puzzles, we often partner with like-minded founders on special products. From collaborations with One Stripe Chai to Studio Proba, our bundles bring calm and creativity to your home habits—no matter the season.