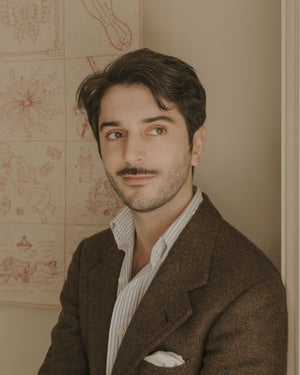 In Conversation with Ilya Milstein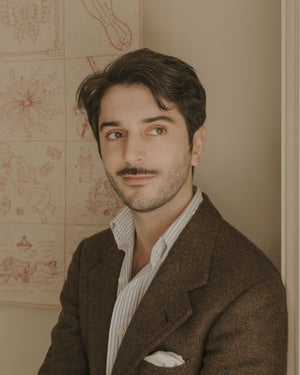 It's easy for our team to become so absorbed in something—a classic novel, a delicious meal, an exhilarating conversation—that we lose ourselves entirely. This idea was certainly the case upon discovering Ilya Milstein's art. The self-taught illustrator's work demands attention at the highest level—though perhaps demand is too harsh a word. Rather than obligated, we often feel inspired to unearth the motivations behind Milstein's penchant for detail: Why did he choose to use that palette? To place that line or add that shadow? To render that moment on the page?

Rich aesthetics aside, there are multiple layers to consider when viewing Milstein's work. "In its detail-oriented subject matter and time-consuming process, much of my work involves slowing down in a fast world," he mentioned in our interview below. "I try to live like that in my daily life, taking the time to examine small things that I'd otherwise overlook."

We were thrilled to witness Milstein's thoughtful approach inform our latest puzzles, Wunderkammer Repatriation and Writer in the Snow. Ahead, the illustrator invites us into his process—both painting a picture and telling a story that encourages curiosity and delight.



What ordinary habit best captures your essence or identity besides art?
While it can be hard to ascertain one's own essence, I would say cooking. As drawing became my full-time occupation, cooking became my hobby. It allows me to exercise some of the same impulses, such as experimentation, historical and cultural research, working with my hands, and so on. The meal itself often feels secondary to the process. Embarrassingly, I'm sometimes happiest and most stimulated in a specialist grocery store.

You've lived and worked all over the world. How have each of your residences or travels informed your art practice? What places positively challenged your creative growth the most?
Melbourne was an ideal place to grow up. Having a daily engagement with nature, an emphasis on work-life balance, and sometimes liberating isolation from the rest of the world seemed conducive to becoming a dreamer. However, as I entered my twenties, I became increasingly alienated by these same qualities; I wanted to be somewhere denser/more dynamic, I wanted to have more professional opportunities, and I wanted to feel like I was in the center of something. I think I lost a clear direction with my art and what I wanted to achieve with it.

New York is an ideal place to work. In its dynamism and cultural resources, it's endlessly inspiring. In its pace, it's invigorating. In its demands, it often requires its artists to commit seriously to a clear creative path. Beforehand, I was a dabbler. I made films, painted, wrote, sculpted, etc. In New York, however, I decided to focus on doing just one thing to the best of my abilities, which was drawing. I'm grateful that I had the opportunity to develop my work, although, after seven years of drawing every day, I'm increasingly thinking about branching out to new things as well.

You're a self-trained illustrator. What drew you to illustration, and what misconceptions about this medium would you like to change or bring attention to?
I drew obsessively throughout my childhood and teens, eventually building an audience for my zines. After briefly studying architecture and then unsuccessfully applying for a drawing course at Melbourne's art university, I took a sculpture and installation course that was mainly concerned with relational aesthetics and broader contemporary practice. While I still enjoy a lot of that work, I was never especially passionate about making it, and I had additional concerns with the insularity of its audience and the viability of making a livelihood in the longer term. So, I decided to try drawing again.

Illustration appealed to me foremost due to the simplicity of its materials, which required creative resourcefulness, technical proficiency, and few overheads (just a pen, paper, and a laptop). I was also drawn to the long history of graphic arts (if one accepts Egyptian hieroglyphics as a general starting point) and how illustration reaches a far wider audience than conceptual art does.

I think that a main misconception about illustration is that it lacks depth and profundity. Although not all illustrations are made alike, many are expressive, referential, complex, and so on, but not received with the same seriousness that gallery art is. One could argue that this is liberating, but it also means that a lot of great artists haven't received the acclaim they probably deserve. I suspect that this is due in part to dusty romantic ideals of "artists vs. sell-outs," which aren't at all reflected in the way the art market works in the 21st century. I'm in no position to change this; I'd just encourage that we shouldn't bring preconceptions to any medium or form of self-expression.

What themes, scenes, or moments did you want to explore when conceiving Wunderkammer Repatriation and Writer in the Snow? Did you encounter any unexpected creative discoveries when crafting the artwork for these puzzles?
With Writer in the Snow, I wanted to capture a feeling inspired in part by a particularly cold pandemic winter. It deals with familiar themes of isolation and the ambiguities of beauty and inspiration. With it, I was mainly concerned with trying to capture a simple scenario that the viewer could bring their own innate reaction to; the main character is either joyous and inspired or lonely and cold (or maybe all these). I often like making work that's both simple and ambiguous.




With Wunderkammer Repatriation, on the other hand, I tried to capture a thought. I like the wunderkammer ("wonder room") as a visual subject matter but abhor their historical tendency to group non-Western art with natural objects. I'm also generally interested in the history of art theft and (often unsuccessful) calls to return plundered goods. As a way of reconciling these interests, I decided to depict the heir of a traditional wunderkammer researching and returning these objects, hopefully depicting a fuller sense of "wonder" in the room. I'm often trying to explore ambiguities that can exist between beauty and ethics. I hope the puzzle is fun for the user but also provokes them.

As far as discoveries go, I wanted to draw Wunderkammer Repatriation in a one-point perspective, which felt fitting for the subject matter. Given the multiple planes of shelves, I believed that this was well beyond my limited abilities, but I decided to uncharacteristically embrace this limitation (this also felt fitting for an image that upholds so-called "naïve" art). I think that a definition of art might be the space that exists between how we perceive the world and our capabilities to articulate it.


In your artist blurb for Writer in the Snow, you say, "Even when surrounded by artistic resources weighing down bookshelves and cluttering walls, inspiration is regularly found from everyday natural phenomena." Tell us more about the natural phenomena you're referring to. How does the natural world offer you simplicity or clarity? How does that change or grow with each season?
Specific to the work, the natural phenomenon I was referred to was the dance of falling snow. The aimlessness of the flakes, fluctuating billows, changes in pace, providing a drawing of wind. I don't think I depicted that particularly well, but the image's main subject is about the state of arrest at what is seen rather than what is being seen.

From my limited understanding of the natural world, I don't find it simple. It's both hospitable and hostile, beautiful and cruel, constant and ever-changing, and endlessly varied. I find clarity in that complexity, as it reminds me to let go of trying to understand everything. It's sometimes best to sit back and admire.

What are you curious about—in art and life—these days? How are you following these curiosities?
In my own art, I'm curious about experimenting with different media. My illustrations are drawn on paper, then colored in [a] computer, and I'm increasingly interested in making discrete objects completed through analog processes from start to finish. In art in general, I've recently been very curious about traditional Korean still-life painting, in large part due to an upcoming trip. I hope to follow that curiosity when I'm there.

What does inspiration look and feel like in a world that's become so dependent on productivity and technology? How has art taught you to seek out tactile richness?
Inspiration often looks like removing myself from productivity and technology. In its detail-oriented subject matter and time-consuming process, much of my work involves slowing down in a fast world. I try to live like that in my daily life, taking the time to examine small things that I'd otherwise overlook. It's a bit of a chicken or egg dilemma… Seeking tactile richness probably taught me how to make art.



Ilya's Fall Habits
What changes the most for you in the fall months? It's a certain pace. Things slow down and become less manic. It gives me the space to view New York at its most picturesque: when fall leaves and golden afternoons partner with brownstone and brick.
What is your preferred fall color palette? All matter of browns. Brown is the most misunderstood color in my medium, as it's often associated with stuffiness. However, I find it evocative. It's the color of skin and earth.
What is your go-to fall habit or indulgence? Making soups and stews and eating them with good sourdough bread. There's a cassoulet recipe I'm dying to try. Doing it properly takes four days.
What's on your fall reading list this year? Beyond the Wall: A History of East Germany by Katja Hoyer, The Slip: The New York City Street That Changed American Art Forever by Prudence Peiffer, White Jazz by Charles Newman, and Primo Levi's If This Is a Man.
What do you like to wear in the fall? I love wearing sturdier natural fabrics in the colder months. I'm always happy when I look down and see the textures of tweed, flannel, suede, and so on.
What do you hope to notice more this fall? Everything.