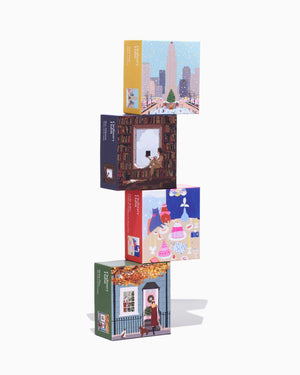 The Artwork Behind Our Newest Puzzles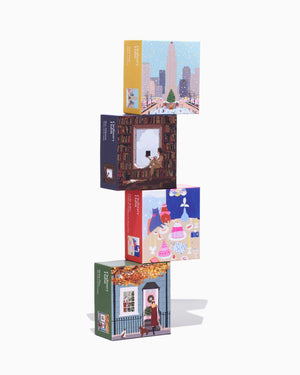 The Colors of Christmas
Capturing the warmth and joy of spending time with loved ones during the holiday months, The Colors of Christmas by Ilenia Zito is a snack sized 100 piece puzzle. Taking 15 - 20 minutes to put together, this mini is a great stocking stuffer, a sweet hostess gift, or a little treat for yourself (we won't tell anyone!).
From Ilenia: The Colors of Christmas captures the Holiday season as a homecoming. Perhaps, for work reasons, we are away from home, and in the most beautiful time of the year we feel the pull to return to our family – where we feel good, surrounded by love.

Writer in the Snow
A cozy, wintery scene for book lovers, Writer in the Snow is a challenge, despite its petite 100 piece size. Immerse yourself in the highly-detailed literary scene and enjoy the satisfaction as this snowy little puzzle comes together.
From Ilya: Writer in the Snow is a depiction of how creativity often feels to me. Even when surrounded by artistic resources weighing down bookshelves and cluttering walls, inspiration is regularly found from everyday natural phenomena. With the tensions between simplicity and complexity as its subject, the illustration also quietly references the 19th century French humorist Alphonse Allais pioneering minimalist art despite this credit often going to Malevich's decades-later "The Black Square", due perhaps to dusty distinctions between 'high art' and 'low art'.
Looking for Meaning at the Dinner Party
Always bringing a playful sense of joy into her illustrations, Holly Jolley's Looking for Meaning at the Dinner Party stays right on theme. A very proper cat and dog sit side by side as they play a game of chess, eat pink jelly sculptures, and sip on wine and coffee. Perfect for when you're short on time, our 100 piece puzzles are a great little afternoon or evening treat.
From Holly: I absolutely adore dinner parties, and I feel like overly stressing about them might be my love language! in Looking for Meaning at the Dinner Party, the whole table setting ritual, fresh flowers, the candles, desserts that are too pretty to eat, a cheeky game of chess with a glass of wine. For this illustration, I pictured my cat Hamlet and my sister's dog Remigio enjoying a cornucopia of holiday delights.

Magical New York
There's nothing more iconic than New York City during the holidays. Tanu Vasu's Magical New York brings out the joy and wonder of the season in this delightful 100 piece puzzle. Savor a moment of calm as you spend time putting together this holiday themed treat.
From Tanu: Magical New York celebrates an iconic New York holiday moment featuring the 'lighting of the tree'. I captured the magical essence of the city, from skaters swiftly gliding around the ice rink to old New York architecture and colorful decor. This piece art memorializes the spectacle of New York during the holiday season, which is my favorite time of year!