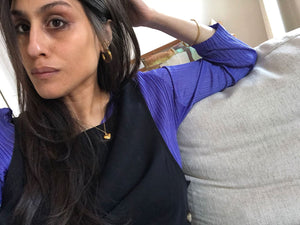 Sundays with Durga Chew-Bose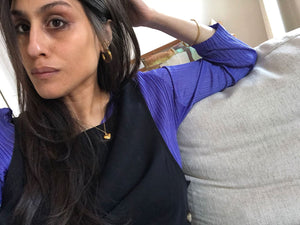 Sundays With is a monthly series that will highlight the routines, habits, and rituals of folks in the Ordinary Habit community. We'll be exploring what helps them close out their week, and get ready for what's ahead.
Durga Chew-Bose is a Montreal-based writer, whose work has appeared in Hazlitt, The New Inquiry, and The Guardian, among other publications. She is the author of Too Much and Not the Mood, a collection of essays that has resonated deeply with so many. Echo and Durga became fast friends during their undergraduate studies at Sarah Lawrence College, meeting on their first day, standing side by side in line for orientation. Read on to see how Durga spends her Sundays.
What do you most look forward to on Sundays?
That it's not yet Monday.
How do you reset and prepare for the coming week?
I need to get better at doing that.
Is there a ritual you find yourself doing each week on Sunday?
There was a period where Sunday night dinner with parents was a thing. Getting back into it now that we're all getting vaccinated.
How has your notion of Sunday changed over time?
Especially this last year. The dread comes in waves. The older I get and particularly in the last year, I really try to remember it's not a work day. But my mind naturally buzzes, and so much of my work is writing so there's really no turning that off. I'm always writing, especially when I'm not.
Is there a show or movie you associate with Sundays?
As a kid, Road to Avonlea. As an adult, Succession.
What do you call that feeling that creeps up on us on Sundays?
Capitalism.
A satisfying Sunday dinner to avoid the feeling of Sunday evening?
Anything homemade with carbs.
What do you do on Sunday so you don't have to do it on Monday, or Tuesday, or Wednesday?
I wish I was that organized.