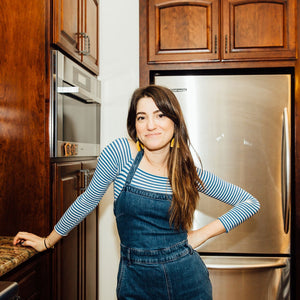 At Home with Natasha Feldman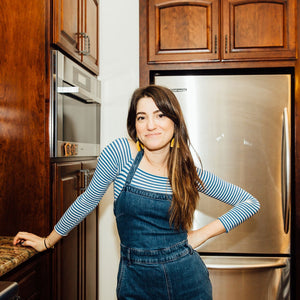 There's a million reasons to love following along with Natasha Feldman – she's hilarious for starters, but more importantly her recipes are great for everyone. Nothing is too complicated, and everything is delicious. With the craziness of the holidays upon us and Hanukkah starting tonight, we wanted to share a recipe to help you slow down, and also who doesn't always want cookies?
For the holidays I love to have an arsenal of make ahead recipes so that people coming over for big meals, or unannounced, feels easy and stress-free. This usually means lots of slow braised meats (mainly brisket and short rib) and LOTS of refrigerated/frozen cookie dough. The cookie below has become a staple because it gets good crispy edges (from the honey) and is still incredibly chewy and satisfying (from all the almond flour). About a decade ago the NYT taught me the importance of resting a chocolate chip cookie dough in the fridge overnight before baking and it changed the game. Once you start, you'll never go back. After the 24 hour resting period you can either scoop 'em and bake them off, or scoop and freeze the individual cookie doughs for quick cookie access at all times. Just cook them from frozen. — Natasha Feldman
Chewy Almond Hot Cocoa Cookies
Makes 16 Cookies


GATHER


1 cup almond flour
¼ cup coconut flour
1 teaspoon baking soda
¼ teaspoon salt
½ cup honey
6 tablespoons coconut oil
6 tablespoons almond butter
1 egg, room temperature
1 ½ teaspoon vanilla extract
1 cup semi-sweet chocolate chips

CREATE

In a medium mixing bowl combine almond flour, coconut flour, baking soda and salt. In a stand mixer, or with hand beaters and a large mixing bowl, cream the honey and coconut oil. Add almond butter, egg and vanilla into the creamed honey and coconut oil.
Fold the flour mixture into the wet ingredients. Stir in chocolate chips and mix just until combined.
Refrigerate dough overnight!
Preheat the oven to 350° F and line a baking sheet with parchment paper.
Roll the dough into balls the size of golf balls. Sprinkle with a touch of sea salt.
Bake for 12 minutes, until the outside of the cookies have just set.
Rest for 10 minutes on a cooling rack before enjoying.
TO TURN THEM INTO HOT CHOCOLATE COOKIES: Dip each cookie half way in a bowl of melted chocolate once the cookie is fully cool. Sprinkle the chocolate dipped side in mini marshmallows, and extra flaky sea salt.