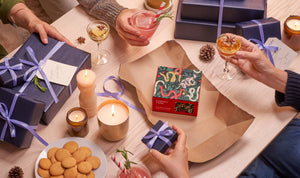 Game Night with Ordinary Habit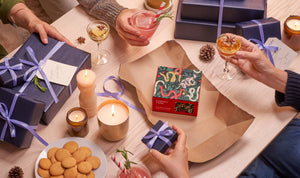 Do you hear that? It's the faint sound of children laughing, the chime of champagne flutes mid-toast, the rustle of wrapping paper coming undone. It's easy to let these ordinary moments pass us by. But if we slow down and listen closely, they can ignite the senses—and inspire a feeling of nostalgia—especially during the holidays.
At Ordinary Habit, we're proud to create products that encourage presence and calm, though we never forget to pay homage to the past. This idea is particularly true for Tre and Echo—our inspiring co-founders (and favorite mother-daughter duo!)—whose rituals and experiences anchor everything we do. "My mother taught me to crochet early on, starting with the little chain stitch and working my way up to quilts and even granny square vests!" Tre recalled when asked about enduring off-duty habits. Eventually, she introduced this tradition to Echo and added that "Echo loved creating things with her hands, so we were always finding crafts and activities to keep her busy! She really got into it and eventually was designing amazing scarves with beautiful alpaca wool colors."
As the year winds down, downtime kicks into high gear. Tre's story shows us that there's no better season to indulge in family pastimes—or cultivate new habitual moments of play. And if you're not sure where to start, we've curated a game-inspired gift guide to get you through the holidays with ease.
Are you ready? Get set. Go—and let the fun and games begin. 



FOR GATHERING AND GAMES
Wondering how to spend your holiday downtime? Gather around the table for (a long-awaited) game night with your nearest and dearest. Our design-driven puzzle bundles are a feast for the eyes—and heart. No matter the season, everyone's a winner with these family-friendly gifts.
Our Winter 2021 puzzles are designed to inspire artful play (year after year). Each puzzle is made with recycled materials and features vibrant vignettes from our artist partners. Did we mention you'll also receive a free Ordinary Habit tote bag with purchase? Talk about a bundle of joy.


Do yourself a favor and grab a party favor everyone can enjoy. The Chai bundle includes our stunning 500-piece Troublemakers puzzle (illustrated by Manuja Waldia) and a delectable rose chai blend from One Stripe Chai. Nourish your next game night with fun and fare—this holiday season and beyond.

FOR GAMES ON THE GO
Missing something from your holiday packing list? Our 100-piece puzzles and pocket-sized matching cards prove that less can truly be more (read: more fun and games!). Whether you're en route with friends or flying solo this holiday season, playtime meets go time with these travel-ready goods.


Game, set, match (cards). Our Learn Your Leaves Matching Cards are a clear winner for your gift-giving needs. Illustrated by our friends at Wild Hart Paper, this design-forward game travels well and looks even better.
Keep the good times moving with our on-the-go puzzles. Annu Kilpeläinen's Warp puzzle warms our hearts and transports us to foliage-laden landscapes—even as temperatures drop. Whether it's under the tree or in your suitcase, this 100-piece puzzle can be enjoyed anywhere and everywhere.

FOR FUN AND GAMES
The most wonderful time of the year brings out the child within us all. Our puzzles and matching cards inspire and delight with eye-catching colors and whimsical illustrations. So gather your little ones and let the (fun and) games begin with these kid-approved gifts.
Cat's out of the bag! Matching cards are the perfect gift for learning and leisure time. Our adorable Feline Friends Matching Cards set comes with 27 pairing options (and endless smiles). With hand-painted illustrations by Holly Jolley, this 54-card deck ensures a jolly good time for all.
Is it love that we're feeling? At first glance, it's easy to see why our Puppy Love puzzle spreads joy and good cheer. Assemble this charming 100-piece puzzle (illustrated by Ana Jaks) and celebrate the end of the year with a festive game for all ages.